01.

Liquideep

– You, We ,I (Mentalwave)
02.

Sandy Barber

– I Think I'll Do Some Stepping (Opolopo Remix) (BBE)
03.

Sheila Ford

– Why Can't You See (Louie Vega & DJ Spen Mix) (Quantize)
04.

Wipe The Needle ft. Alex Latimore

– Did You Ever (Slapped Up Soul)
05.

Maritri

– Angel In Disguise (Mixes) (Global Soul)
06.

Portia Monique

– Ain't Scared Of You (Opolopo Mix) (Reel People Records)
07.

Steal Vybe ft. Monday Michiru

– Cast In Your Spell (Makin Moves)
08.

Elements of Life ft. Josh Milan

– Live Your Life For Today (Vega Records)
09.

DJ Kemit

– Fortune Teller (Ocha Records)
10.

Paris Cesvette ft. C Robert Walker & Sabrina Chyld

– Can We (Jack 2 Jazz Records)
11.

Louie Vega ft. Jocelyn Brown

– You Are Everything (Vega Records)
12.

Pat Bedeau

– Close To You (Tribe Records)
13.

Tracy Brathwaite

– Loyalty (Honeycomb Music)
14.

Wipe The Needle ft. Dawn Tallman

– Release (Groove Odyssey)
15.

Urban Sound Lab ft. Terrance Downs

– Karma (Reel People Music)
16.

Louie Vega & Monique Bingham

– Elevator (Vega Records)
17.

Portia Monique & Joey Negro

– Never Give You Up (Papa Records)
18.

Kutiman, Karolina

– Music Is Ruling My World (Opolopo Remix) (Soul Heaven)
19.

Dawn Tallman, Gianni Junior

– Why (Quantize)
20.

Carolyn Harding

– I Found The Strenth (West Side)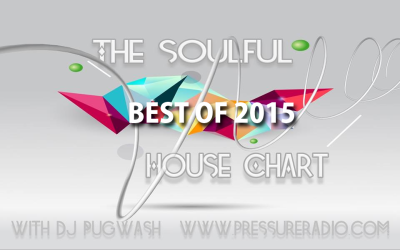 The Soulful House Chart is broadcast live every Thursday on www.PressureRadio.com compiled & presented by DJ Pugwash A live countdown of the Best Deep Soulful House Music over resent weeks.